Designing a successful oil analysis program can be a difficult process and maintaining your program can prove even more arduous. With TestOil's NEW KickStart program, your team will gain all of the knowledge and tools to run your oil analysis program with more success than ever before. Our team provides you with a series of on-site and virtual visits coupled with personalized training to ensure retention. Your team will gain the confidence to perform proper tasks as well as determine the appropriate next steps to ensure your efforts return the maximum value.
Initial Consultation
Goal & Expectation Development
Establish the Criticality of Machines
Establish Communication Between Parties
First On-Site Visit for Equipment Roster Creation
Second On-Site Visit
Oil Sample Collection Process
Best Practices Review
Follow Up & Report Review – Virtual Meeting
Third On-Site Visit
Audit of Sample Collection
Program Continuous Improvement Recommendations
Follow Up – Virtual Meeting
Final On-Site Visit
Program Handoff
Final Audit of Sampling Process
Certification from TestOil
Program Manual
Learn what it takes to protect your assets
You have the drive, ambition, and vision. Use a partner to support you that does the leg work while you do the real work.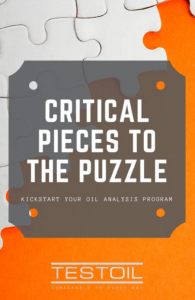 Critical Pieces to the puzzle