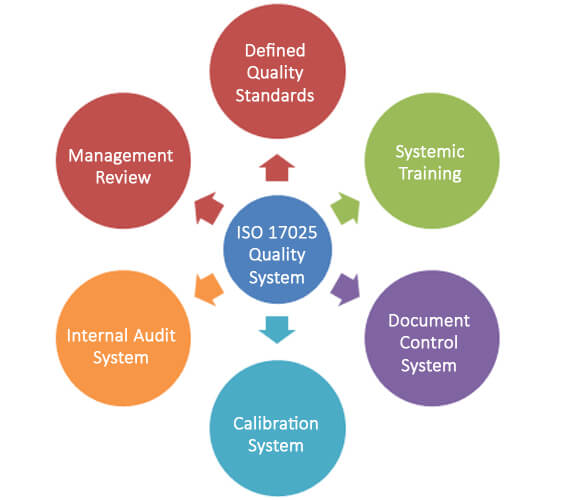 Eurofins TestOil is committed to operating within the highest professional standards to provide our clients with quality test data. We strive to continually demonstrate technical competence and extraordinary services to existing clients, potential clients and independent auditing authorities. Consistent excellent performance is achieved through the implementation of our Quality Assurance Program.
The Quality Assurance Program conforms to the requirements of ISO/IEC 17025:2017 for the tests listed on Eurofins TestOil's scope of accreditation, and functions to continually improve the effectiveness of the management system. Employees are educated regarding the location and content of quality documents which pertain to their responsibilities. Employees are required to carry out the quality policies and procedures in their work.
Why ISO 17025?
ISO/IEC 17025 was first issued in 1999 by the International Organization for Standardization (ISO) and the International Electrotechnical Commission (IEC). The standard contains all requirements that testing and calibration laboratories must meet if they wish to demonstrate that they operate a management system, are technically competent, and are able to generate technically valid results. This standard contains technical requirements which ISO 9000 does not, and is the preferred standard for laboratory quality systems.
What is Accreditation?
Accreditation is an affirmation by a third party (Accreditation Body) that the laboratory complies with all of the requirements in ISO/IEC 17025:2017. The laboratory's quality management system and testing or calibration processes are thoroughly evaluated on a routine basis to ensure that the laboratory demonstrates technical competence and compliance with ISO/IEC 17025:2017.