AssetLink Oil Sampling App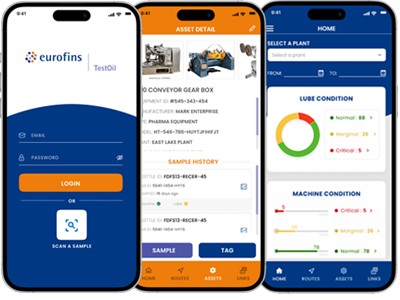 Efficiently collect, route, and manage fluid samples with our oil sampling app. Eliminate manual labeling of samples!
AssetLink allows you to manage asset information easily and accurately with QR codes. Link to DataSight-managed Routes to ensure assets are sampled according to their proper schedule. Manage multiple plants, areas, routes, and assets. The Search function allows you to find assets by machine ID, asset name, and more.
Have questions? Email us at TO.AssetLinkInfo@et.eurofinsus.com.
Begin Using Assetlink with 3 easy steps
Link sample to asset using QR coded sample label
Input sample information including hours,observations, etc.
Update asset information
Add new asset to equipment database
Store images of asset
Link asset to QR coded tag or 1D bar code
Utilize Routes to organize and audit asset
Determine user access levels through your program administrator
Tag GPS location for equipment assets
View PDF sample results from your DataSight online portal account
View assets based on last sampled date
Generate Job Report with sampling summary and observations
Reference Sample Dashboard for quick overview
AssetLink is an easy way to manage your oil analysis program. This oil sampling app takes the work out of maintaining your sampling schedule. Focus on the important tasks and let sampling become the routine, easy task it is meant to be. Let Eurofins TestOil do the hard work – finding out how your assets are performing. We do the heavy lifting of testing and analysis for you. Start using AssetLink today!