Sullair AssetLink FAQs
Jump to Sign-In Page
Jump to Reset Password
Jump to Scan a Sample
Jump to Linking Sample Bottle to Compressor
Jump to Add Assets & View/Edit Asset Information
Jump to Sorting and Filtering Assets
Make your Sullair industrial air compressor predictive maintenance seamless by utilizing the new AssetLink mobile app for your lubricant testing, reporting and tracking. AssetLink allows you to use QR codes to scan and link lubricant samples instead of relying on handwritten labels. It allows you to program user access levels, to tag GPS locations of assets, to input sample information such as hours and observations, and allows generation of sample reports.
Click the link to download the instructions in PDF form, or follow the instructions on this web page below to get set up.  
Sign-in Page
Sign in using the user's email address and the password that was created at registration. 
RESET PASSWORD
If password creation link has expired or password is forgotten, select Reset Password and enter & submit email address. 
A password reset email will be sent to the user that will expire within 24 hours if not used/ 
"Scan A Sample" or "Not Logged In" Mode 
AssetLink can be used to link samples to assets without being logged in. 
All sample labels are securely (encrypted) linked to a customer account. When a label is scanned, that customer account is opened in a "Read Only" mode that will not allow addition or modification of assets, but will allow linking of that sample to an asset. 
At the bottom of the Sign-In Page is a white and blue "Scan" icon – select this and scan a label to enter this mode.
 Linking Sample Bottle to Compressor
1. Select a Compressor – three methods to select a compressor 
     a. Scan bar code on serial plate 
     b. Search by serial number / select from asset list 
     c. Scan machine tag 
Note: If an asset is sampled more than once within 24 hours a warning will appear for the user 
2. Linking a Sample – two methods to select a sample  
     a. Scan bottle QR code on label 
     b. Enter bottle ID number found on label below QR code 
Note: If a bottle is scanned that has already been linked to a compressor, a warning will appear for the user. Selecting to not use that bottle will take the user to the sample information page for that bottle to indicate what compressor it is linked to. 
 3. Unlinking a Sample 
     a. Open the menu by selecting the three horizontal lines icon on the top left of the screen 
     b. Select "Sample History" 
     c. Select the tile for the sample to be unlinked 
     d. Choose "Unsample" on the bottom of the screen on the Sample Details page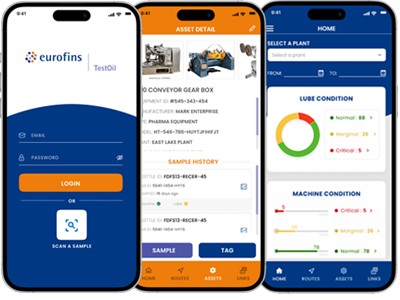 Begin Using Assetlink With 3 Easy Steps
Request access to your account. Click here for our Registration Page

Download the app below. Click for Google Play or the App Store.

See how easy it is to use AssetLink with the video below or click here to watch on YouTube.
                                 Features of AssetLink
Link sample to asset using QR coded sample label

Input sample information including hours,observations, etc.

Update asset information

Add new asset to equipment database

Store images of asset

Link asset to QR coded tag or 1D bar code

Utilize Routes to organize and audit asset

Determine user access levels through your program administrator

Tag GPS location for equipment assets

View PDF sample results from your DataSight online portal account

View assets based on last sampled date

Generate Job Report with sampling summary and observations

Reference Sample Dashboard for quick overview
AssetLink is an easy way to manage your oil analysis program. This oil sampling app takes the work out of maintaining your sampling schedule. Focus on the important tasks and let sampling become the routine, easy task it is meant to be. Let Eurofins TestOil do the hard work – finding out how your assets are performing. We do the heavy lifting of testing and analysis for you. Start using AssetLink today!
 Need some help with troubleshooting? 
Need some help with troubleshooting? Click here and read our FAQ page.