TestOil Speaking at LRVS 2021: Variability in Oil Analysis Results
September 15 @ 11:00 am

-

11:30 am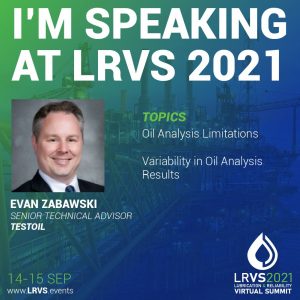 Join TestOil's Technical Service Advisor at the Lubrication and Reliability Virtual Summit 2021!
The fundamental aspect of applying alarms to oil analysis data lies in knowing how much of a change in results is too much. What hinders this process is that some variance is simply expected as an error within the method or even just noise on the instrument.
Using elemental spectroscopy (wear metals) and particle counting as comparative examples, this presentation will explain how much each test is expected to vary from one result to another to better enable one to see how much change there must be before becoming concerned.
This event is held as part of LRVS 2021. Tickets to attend this talk and many others at LRVS 2021 can be purchased by clicking the button below.
Visit the link below to learn more!