October CLS Training
October 19 @ 10:00 am

-

October 22 @ 5:00 pm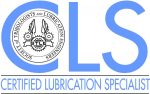 This is a 4-day course designed to prepare attendees for the Certified Lubrication Specialist™ (CLS) certification exam offered by The Society of Tribologists and Lubrication Engineers (STLE). While this course covers all the topics in the body of knowledge (see below), we make no statement that this training alone will fully prepare an attendee to challenge an exam, nor guarantee successful certification.
COURSE REVIEW
Lubrication Fundamentals
Fluid Conditioning
Storage, Handling and Application of Lubricants
Monitoring and Reducing Consumption of Lubricants
Gears
Bearings
Seals
Fluid Power
Lubricant Manufacturing
Pneumatics
Transportation Lubricants
Metalworking
Solvents and Cleaners
Problem Solving
Lubricant Analysis
Lubrication Programs

TRAINING COURSE REGISTRATION INFORMATION
Registration Fee: $1,495.00 per person
Class Location - Virtual
All virtual classes are streamed through GoToWebinar. The class will run on Eastern Standard time from 10:00am-1:00pm. After a lunch break, class will resume from 2:00pm-5:00pm. Students can access GoToWebinar through their browser or by downloading the application to their desktop. The link for your corresponding class will be sent to you once your registration and payment have been completed.
Expert Instructor: Evan Zabawski, CLS, Senior Technical Advisor
Evan Zabawski is the Senior Technical Advisor at TestOil, he is a Certified Lubrication Specialist with extensive experience training tradesmen and professionals in a variety of fields including: lubrication fundamentals, contamination control, condition monitoring, RCM/FMEA and used oil analysis. Evan is heavily involved with STLE, having been a member for over 18 years, serving the last 8 years as Editor of TLT Magazine, recently joining the Board of Directors and previously serving as editor of The Basic Handbook of Lubrication – Third Edition.
Study Materials: The STLE website contains all the pertinent information regarding CLS Certification. It contains a suggested reading list; TestOil highly recommends the second choice, The Basic Handbook of Lubrication – Third Edition, which can be purchased from the STLE website.
We also recommend reviewing the two ASTM standards that are listed, which are available from https://www.astm.org/
CERTIFICATION EXAM REGISTRATION INFORMATION
Students must register for the exam through the STLE website at least 3 weeks prior to the exam date. Exam registration fee is not included in the course registration fee. Please Note: STLE does not endorse, sponsor or support this training course. Visit the STLE website to learn more about the education and experience requirements for those interested in certification. Currently STLE is not offering online certifications. Attendees will have to coordinate with STLE to find a local exam date.
Process Payment
If you are paying by credit card, please call TestOil at (216)251-2510 in order to process your payment. If you are paying via PO, please forward this information to training@testoil.com.